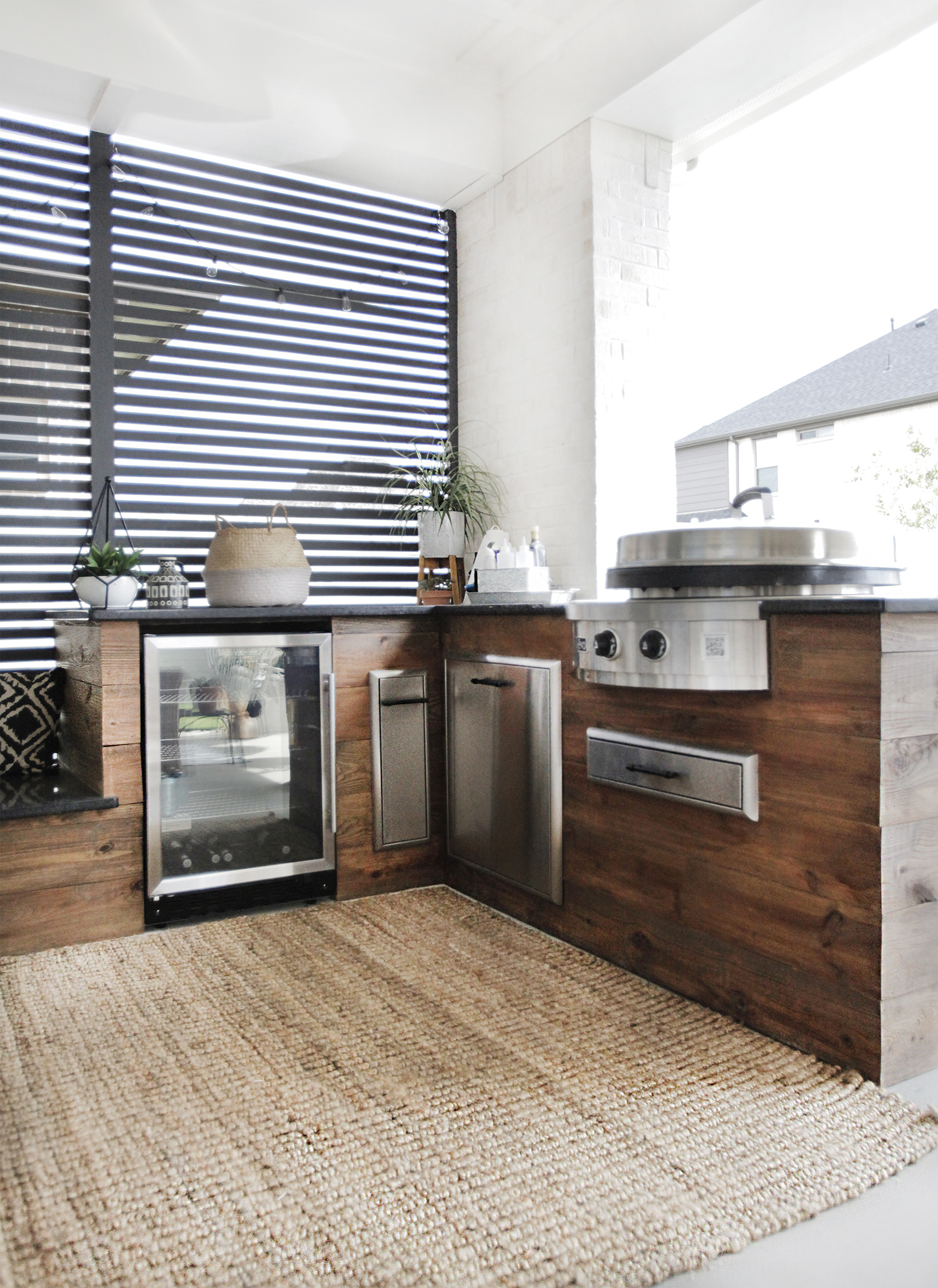 Chad and I LOVE outdoor spaces, so when we were picking out floor plans last year, we made sure to find a plan that had an adequate outdoor living space. Although our outdoor patio wasn't exactly as large as we would have wanted, it was enough for an outdoor living room and a small outdoor kitchen.
As you can see below, the "before" makes the kitchen area look WAY smaller than it actually turned out to be. That's due to a little interior design magic. Chad and I designed probably two dozen renderings (maybe more) for this kitchen to ensure we maxed out the its potential, especially for the small square footage.
BEFORE:
(sorry for the iphone pic!)
We had many "must-haves" for our outdoor kitchen. Here are just a few:
EVO GRILL

– We built the entire kitchen around our EVO grill. It's basically a large (3ft x 3 ft) round outdoor hibachi grill. It's amazing and when the weather is good, we're out there all the time "grilling" up a storm. This grill is also an experience – when we have guests over, it's so fun to all gather around the grill and hang. We wanted enough room around the grill so we could have many people stand around the grill to share the fun experience.
"

DRIVE-THRU WINDOW SERVICE

" – Notice how I built a little bar right under those windows? (see below) — Well, that was thoughtfully done, with many revisions to get it right. When the weather is nice, you can take the screens off the windows, and leave them open. This is such an easy and affordable version of those "drive-thru" windows you see all over Pinterest. We didn't want to swap the windows out due to budget, so we just created our own version of that very high-end look.

PRIVACY SCREEN

– Since our neighborhood builds houses so close together, we needed a privacy screen in order to make the kitchen feel more like a "room" and to give us some privacy. Our poor neighbors will still hear our crazy little toddlers, but at least it gives everyone a sense of privacy(ish), which is always nice.
AFTER:
PROCESS:
And another final shot for ya!